[vc_row row_type="row" use_row_as_full_screen_section="no" type="full_width" angled_section="no" text_align="left" background_image_as_pattern="without_pattern" css_animation=""][vc_column][vc_column_text]

[/vc_column_text][vc_column_text]Angelina Wrona is an artist, designer, and entrepreneur who has exhibited her work in galleries throughout the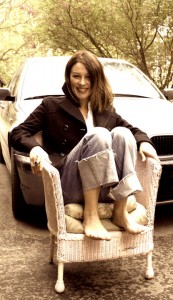 world. She broke into the international art scene by way of an intimate gallery show in Los Angeles, which quickly turned into a two-year tour of North America. Over the past 10 years, Angelina's paintings have earned international recognition by collectors and diehard loyalty from fans.
A self-taught artist, Angelina has been painting professionally since 2003. Instantly bewitched by the medium, Angelina soon discovered she had no off switch – painting was something she had to do.
Each piece begins as an inkling – an idea or a feeling that evolves with every brush stroke. Once she captures the main imagery, Angelina embellishes the painting with lush details like lolloping evergreens and otherworldly pink succulents.
Perched in the nebulous space between dreamscape and reality, Angelina's paintings are mysterious and haunting. They showcase the edgy, the twisted, the wounded, but her subjects aren't victims; they have taken fate into their own hands…whatever the consequence may be. From the angelic to the demonic, Angelina's subjects will captivate you. Alluringly creepy, they dare you to look away…but you probably shouldn't.
A lifelong fashionista, Angelina has another creative outlet – clothing design. Angelina craved the funky styles she brought home from the shops in LA, so as her career took off, she took a brazen leap and opened Anarchy Gallery – a space where she could showcase her work and the clothing she coveted. A boutique unlike any you've seen before, Anarchy Gallery is bursting with amazing clothes with that West Coast flavour, as well as killer handbags and accessories.
In 2013, Angelina introduced her own line of clothing to Anarchy. The Rabid collection features insanely chic pieces in luxe fabrics. Fiercely versatile, Rabid clothes go with pearls, motorcycle boots…or both. Shop Rabid in person at Anarchy Gallery or at Angelina's online shop here.
Angelina Wrona built a modern Renaissance Woman career one passion at a time. She is based in Merrickville, Canada.[/vc_column_text][/vc_column][/vc_row][vc_row row_type="row" use_row_as_full_screen_section="no" type="full_width" angled_section="no" text_align="left" background_image_as_pattern="without_pattern" css_animation=""][vc_column][vc_empty_space height="10px"][/vc_column][/vc_row]